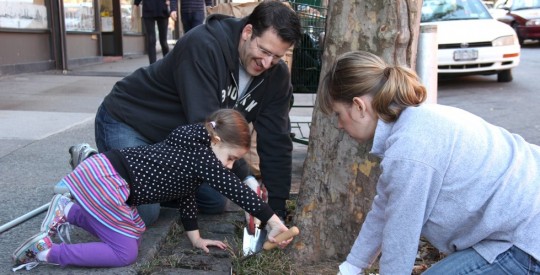 It's time to roll up your sleeves and get a little dirty to help make Park Slope an even better place to live! Join neighbors for the Park Slope Civic Council's Spring Civic Sweep this Sunday, April 27 from 10am-2pm (rain or shine) at J.J. Byrne Playground, 5th Avenue between 3rd and 4th Streets. Here are some of the things that will be going on:
• The Gowanus Canal Conservancy will show you how to prune, weed, and compost trees on local streets of Park Slope.
• Pick up litter on sidewalks and paint over graffiti on lampposts (kids must be supervised by adults).
• Recycle your old electronics! The Mac Support Store will take any and all electronics, except household appliances (no televisions, either), as well as non-rechargeable batteries.
• Finally, if you live on or near 4th Avenue, join the Civic Council's Forth on Fourth Avenue Committee at one of two meet-up locations — 86 4th Ave at St Marks or 8th St at 4th Ave — where they'll be cultivating tree beds, planting flowers, laying compost, and watering to help "green" the avenue.
"We have lots of plants and can use lots of helping hands," says FOFA's SJ Avery.
Tools and gloves will be provided, just RSVP to with your preferred 4th Ave location so that they can be sure to have enough tools.