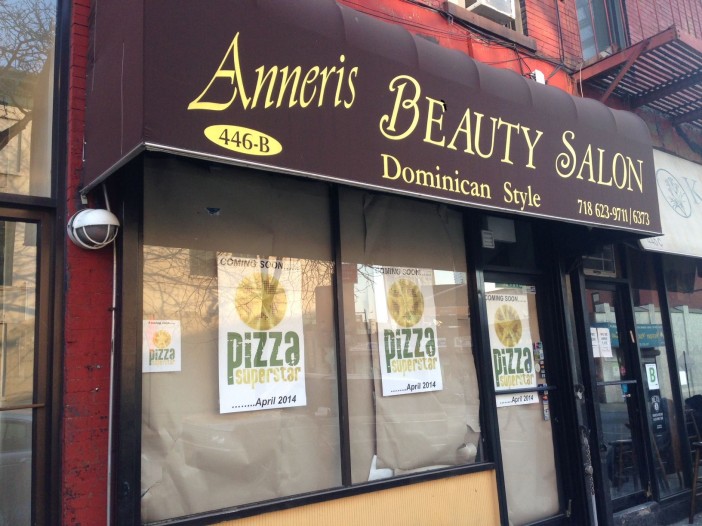 Thanks to a tipster who this photo of some 'coming soon' signs that recently went up in the window of 446 B Dean Street, between 5th and Flatbush Avenues, announcing the April opening of Pizza Superstar. It replaces Anneris Beauty Salon, which moved this past fall.
Records show that the new pizzeria is from the same owner behind Broccolino, the Italian restaurant located right next door on Dean Street. Though Pizza Superstar has a website, it appears to just be a stand-in for the moment, without much actual information just yet — however, one thing that looks hopeful is this photo of a pizza oven, which appears to be a domed, hand-made brick oven made by Uno Forno, the kind currently used at gourmet NYC pizza joints Paulie Gee's and Donatella.
A less solid hint at what might be coming is from Rockstarchitecture. Their site is no longer live, though a search shows they may have been working on the interior of Pizza Superstar at some point, and we managed to find this rendering of the inside.
According to public records, they've applied for a liquor license to sell beer and wine, which is currently pending.
At such close proximity to Barclays, this could end up being a pretty popular spot to grab a bite to eat before or after an event, though we'll have to see if the space is big enough to accommodate a lot of hungry Nets fans. And it's not alone — nearby brick oven pizzerias include Peperoncino at 72 5th Avenue and Franny's at 348 Flatbush Ave. Still, we're all for more pizza, and are looking forward to welcoming them to the neighborhood.