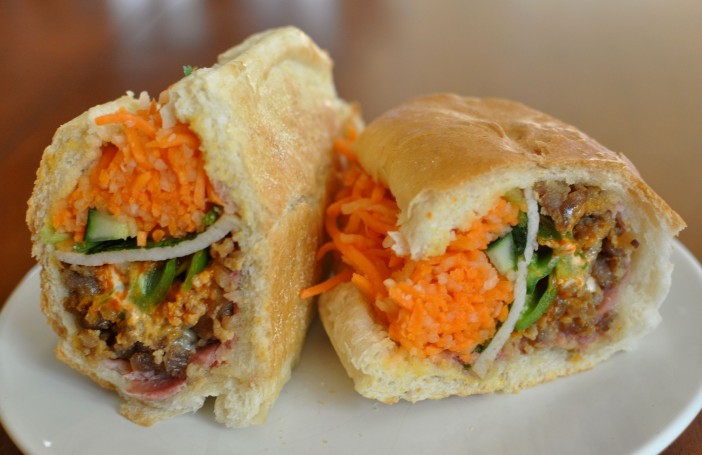 If you're looking for a new spin on the classic Vietnamese banh mi sandiwch — usually cold cuts and pate piled onto a baguette with crisp, pickled vegetables — Banhmigos (178 Lincoln Place) has a few interesting options, like one with beef short ribs, or another with chicken-flavored tofu. And while they're all pretty tasty, we keep going back to the basics and ordering the "Da B" sandwich.
This pretty traditional version is stuffed with Vietnamese ham, liver pate, and very tasty roasted ground pork. Like a lot of banh mi, the veggies take over about half of the sandwich (so you can almost feel a little good about what you're chowing down on), and the lightly pickled carrots and daikon, cucumber, and cilantro add a great crunch. You can specify the spiciness level, and there's mayo to level it out.
Sure, there might be some places in the city where you can get a banh mi for around $4, but in our area you're not going to find anything under $6, so this isn't a bad deal at $6.50. Plus, they've got a stamp card, so after eating nine sandwiches, the 10th is on them.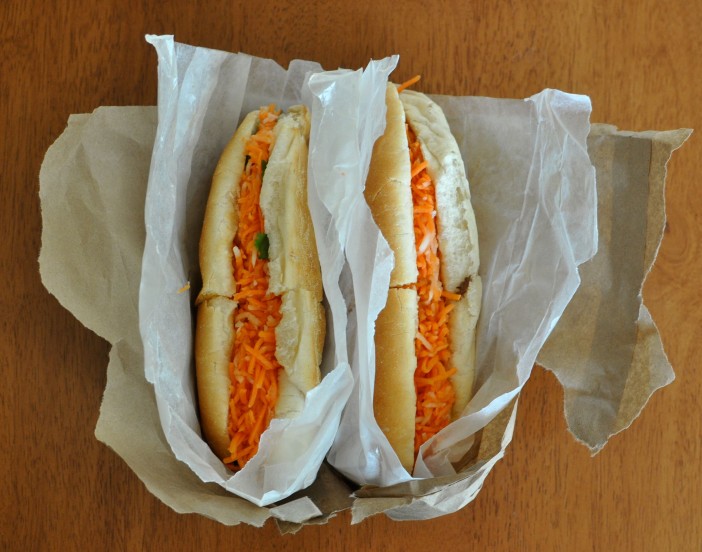 A Banhmigos banh mi is about the same size as some other sandwiches you'll find the the neighborhood, and certainly as filling — though, if you're looking for something extra on the side, check out the spring rolls (the smoked duck ones are particularly tasty).
The space is very small, with only a few stools at a counter in the window, so while you could eat there, you may want to take it to go or get delivery instead.
Banhmigos is located at 178 Lincoln Place, just off 7th Avenue. Hours are 11:30am-9pm daily, and they deliver throughout that time — order online or at .