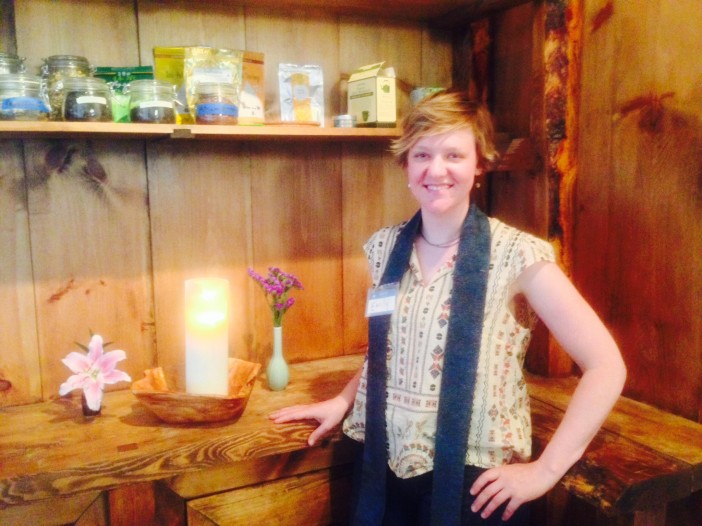 Founded by Pastor Emily Scott, St. Lydia's Church has adopted an unconventional approach to mass: They combine cooking and the religious ceremony to produce a community-based experience that has attracted people from Brooklyn and beyond.
It's a space that has come to encompass these shared experiences, and also is a return to "the basic building blocks of Christian practice, which is bread and a meal. It also involves singing, praying, and loving each other, and trying to bring justice to the world," Pastor Scott said. These elements have come together to create unique atmosphere where people from a diverse background have found a spiritual home.
St. Lydia's provides dinner services every Sunday and Monday evening, when the congregants gather to first busily make a meal — on a recent night, they prepared a vegetarian Indian Korma dish. This alternative approach to worship was an idea that came to Pastor Scott about five years ago, when she first moved to New York.
"In the beginning, I first worked at a large church on the Upper West Side," Pastor Scott said. "In the process of settling into a new city and making friends, I started to meet a lot of people who were curious about the kinds of work I was doing at a church. It became clear to me that the people who were curious about it were not based in a Sunday morning situation."
Scott saw a growing need for a different approach to traditional worship, and the idea for a dinner church was formed.
"I started to think about what a church would look like for the kinds of people I was meeting," she said. "And the idea of sharing a meal together was very compelling to me. In New York, you don't often get a chance to cook for people because of space and other issues, and I wanted to base this church around that."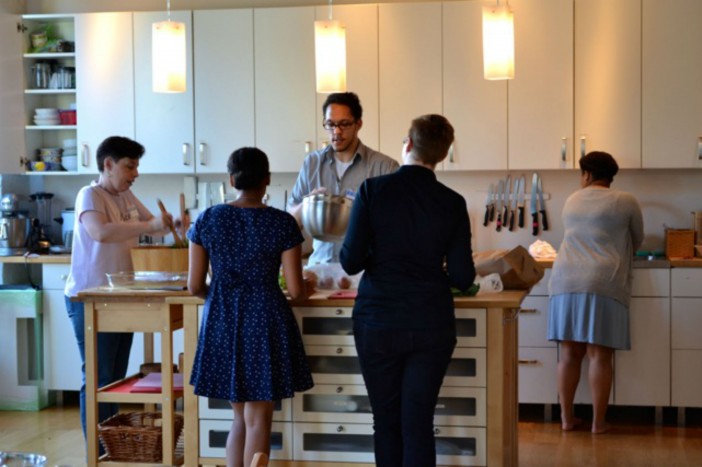 Photo credit: Margaret McGhee
Pastor Scott is originally a Connecticut native who grew up in the Episcopalian faith. She went to church every Sunday with her family and was very interested in the symbols of the church, what they stood for, and what it meant to be part of a larger community. These early experiences produced a lifelong interest in God that followed her into adulthood. She graduated from Sarah Lawrence University, and went on to receive her Masters in Divinity from Yale University.
"It was at Yale Divinity School that I first developed an interest in the different ways people worshipped," she said. "After I finished my masters and began working at Riverside Church, where I planned worship services, this interest began to emerge again."
It was the organizing of the church services that Pastor Scott says helped her start to think about church in a different way. She would eventually go on to become an ordained pastor, and has continued to think about the ways in which bodies are active and present within worship, and the various forms it takes.
Pastor Scott, who loves biking along the Hudson River and spending time at the waterfront near Red Hook, is a fan of baking and enjoys things such as pies, roast chicken, omelets, and savory foods. However, she is quick to point out that she "isn't a foodie," and that the intention of a dinner church "is not to fetishize food" — she described the meals at St. Lydia's as "good, hearty, and healthy." The menu is developed by the person or persons who have volunteered to cook that week, which results in a rotation of many delicious meals. The cook decides on a dish and compiles a grocery list, the ingredients are purchased, and they arrive prior to services to begin preparation of the food with the help of other congregants.
Photo credit: Margaret McGhee
It's through the act of cooking and eating that people are brought together, which is a major component to the dinner church.
"I am interested in what happens at the table because it draws people together," Pastor Scott said.
St. Lydia's has drawn many people together, resulting in a very active church community. Today it is thriving and has about 45 congregants, and Pastor Scott estimates that about 40% of the congregation live in the neighborhoods of Gowanus and Park Slope.
Despite the growth, one thing the congregation lacks is a permanent location — they've been renting space by the night at from a local organization for the past three years. In May, St. Lydia's launched an online fundraiser to help raise money for its own place, and to date they've raised $20,395 of the $30,000 they need to help with its construction.
Pastor Scott said they chose this neighborhood, and are glad they can stay here, because it's where a lot of there members were coming from. However, they were originally being hosted by Trinity Lower East Side, so when they initially started looking for space, real estate and money started to be a concern.
"Originally we wanted to be close to the Atlantic/Pacific terminal because of the great subway access," she said. "However, as we began to look around, we realized it would not be financially possible to move there. We finally decided on Zen Center, which was only one stop away from the Barclays Center, so Gowanus seemed like a great neighborhood to be in."
As they began looking for a new location this time around, again they looked at the Atlantic/Pacific area, but the pricing was still too difficult. In looking for a permanent location for St. Lydia's, they wanted "good subway access from multiple lines, in a socioeconomic and culturally diverse neighborhood." That's what they found in Gowanus, and so they decided to stay.
Like many of the transformations happening in the area, St. Lydia's has also helped to change the way in which church has been traditionally thought of. They're in line with the progressive church movement, and are actively reshaping the way in which mass and church are practiced. This is also reflected in the inclusive approach of St. Lydia's and their openness to all lifestyles and sexual orientations.
"Folks in the congregation are from all over the map spiritually and religiously," Pastor Scott said. "Some of them were raised in the church, some were raised Catholic, and others were raised Episcopal. We even have people whose parents were pastors and ministers, and individuals who have never stepped foot in a church."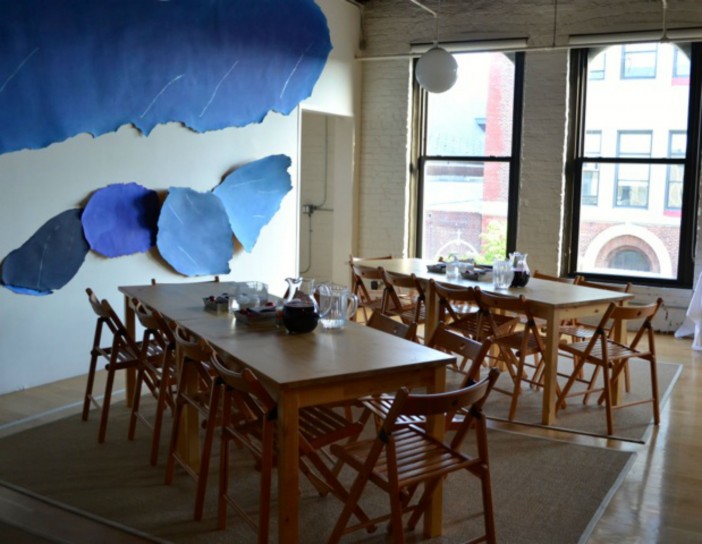 Photo credit: Margaret McGhee
Once in the new space, which is located just a few blocks from their current location, at 304 Bond Street, there are many other services they're looking to provide the neighborhood. Pastor Scott hopes to eventually offer a community breakfast for anyone who would like to take part. The new location will also function as a co-working space during the work week — a place for freelancers to work in a quiet, focused environment. Activities such as yoga and workshopping ideas will be another element that will activate their space on a different level.
In their time in the neighborhood so far, Pastor Scott's passion for justice and attempts to build stronger community ties have come through. Recently she and other members of St. Lydia's helped to facilitate talks between workers from a local union and their branch, and she's a big proponent for local businesses (she says she's a big fan of their nearby neighbor, Four & Twenty Blackbirds), organizations, and issues. With any luck, Pastor Scott and St. Lydia's will continue to bridge the gap between many neighborhoods and groups of people in the coming years.
St. Lydia's services are held from 7-9pm on Sundays and Mondays at 505 Carroll Street. Services at the new location, 304 Bond Street, will begin Sunday, July 20 and Monday, July 21. For more information about and to to donate to St. Lydia's online campaign, which ends on July 2, please click here.