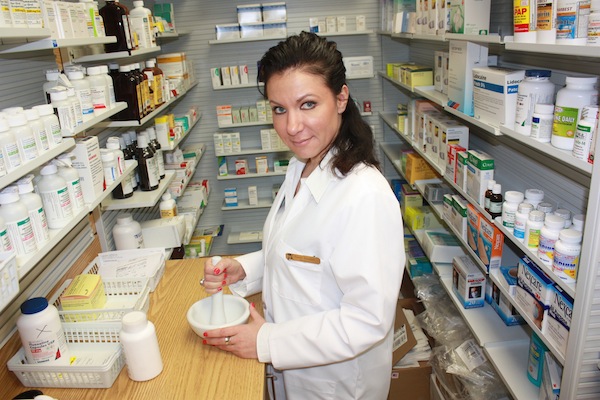 Many of you will recognize the friendly face of Natalie Hanukov. For over three years, she was your pharmacist at Duane Reade on 7th Ave and Flatbush, right across the street from her new pharmacy. While Natalie enjoyed working at Duane Reade, she always knew that she wanted to run her own business.
When the lease on 160 Park Place came up, she jumped at the opportunity. Because Park Place Pharmacy is located near several pharmacy competitors, Natalie knew that in order to build her business successfully, a touch of creativity will be required. This is reflected in the products that are available in the pharmacy. In addition to carrying the common over-the-counter brands, they also carry an extensive selection of vitamins and supplements as well as homeopathic remedies. Their selection comes from the philosophy that a combination of traditional and homeopathic remedies is the best way to maintain health. Solgar vitamins is their main line. They currently carry about 70% their products and it's continuously expanding based on demand.
"Our focus is on natural."
Their dedication to promoting good health extends to selling healthy snacks and drinks. There is a variety of Greek yogurts, smoothies, herbal teas, granola bars, and even treats imported from Europe. Freshly brewed coffee every day, as well as irresistible pastries from Colson's on 9th Avenue, so customers are free to stop by to get breakfast while picking up their prescriptions.
In addition, Park Place Pharmacy carries various brands of personal care products including Kneipp therapeutic bath salts and bath oils, NaturVital natural-based shampoos and body washes, and even Caldrea environmentally-friendly detergent and dryer sheets. They  also have a lovely selection of soaps from the California-based company San Francisco and French company La Lavande.
"We are always happy to accommodate our regular customers. We receive weekly orders so if you don't see something that you are looking for, feel free to ask."
As a parent, Natalie understands the importance of developing lifelong healthy habits at a young age. She factored this into her decision to dedicate a section of her pharmacy to children care products. There, you will find brands like Mustela infant care products, 7th Generation diapers and bath products, and Fairy Tales children natural hair care products, just to name a few. They carry body washes, shampoos, lotions, toothpastes, and other products suitable for children of all ages. The Pharmacy also provides a wide selection of free flavorings for children's medications.
We also offer a variety of miscellaneous services:
• A compounding pharmacy, experienced in making creams and ointments with amazing results.
• If you have a busy schedule and cannot stop by the pharmacy to pick up your prescriptions, they provide medication delivery services.
• Staff can assist customers in English, Spanish, Russian, and Chinese (Cantonese and Mandarin).
• All senior citizens receive a 10% discount on purchases.
• You may come her for bill payment.
• Notary services (Wednesdays and weekends).
"Our foremost mission is to provide personalized and patient-centered care," Natalie says. "Whether it's recommending an over-the-product medication or delivering your medications in a timely fashion, we strive to make our pharmacy services as convenient as possible."
"I love being able to provide exceptional customer service, and be able to determine what that is."
Please feel free to stop by! They are located right around the corner of the 7th Avenue B/Q station!
Current specials: Be protected during flu season! Get your flu shot at Park Place Pharmacy for just $25 without insurance!
Park Place Pharmacy is located at 160 Park Place at Flatbush Avenue, , open Monday through Friday, 9am-9pm; Saturday, 10am-7pm; Sunday, 10am-5 p.m.