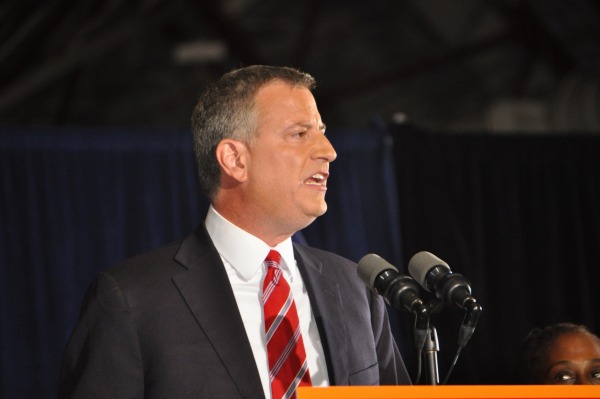 The Slope was represented in a big way tonight as Bill de Blasio was elected the 109th Mayor of New York City. With about half of precincts reporting at the time of this post, de Blasio is the projected winner with over 70% of the votes.
At his victory party at the Park Slope Armory on 15th Street at 8th Avenue tonight, neighbors joined the 11th Street resident to celebrate.
"Today you spoke out loudly and clearly for a new direction for our city," de Blasio said in his acceptance speech, which focused on bringing together the "two cities" he had mentioned throughout his campaign. "United by a belief that our city should leave no New Yorker behind, we're proud of what we've accomplished on this campaign, and we're humbled by it."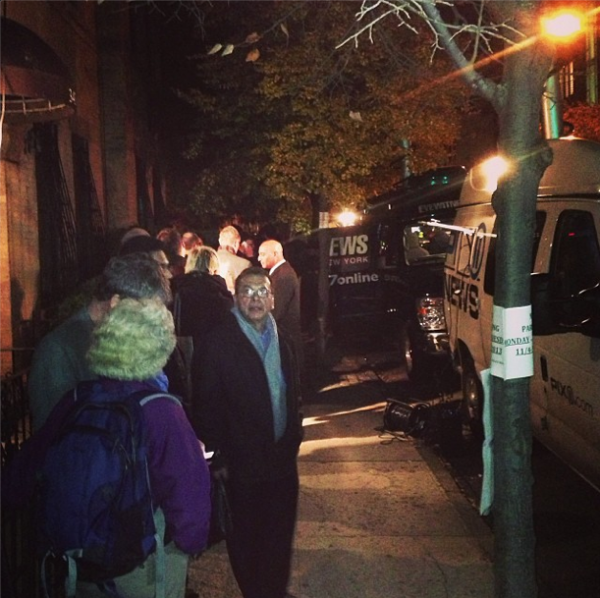 Before the party started, though, a line wrapped around the Armory to get inside — it was open to the public, and we're hearing that about 3,000 people RSVPd to the event — and the crowd didn't start moving inside until 9pm, when polls had closed. Despite somewhat chilly temperatures and a wait, no one in line seemed to care. There was a lot of laughing, and a refrain of "I can't believe we're here," running throughout. The perky de Blasio staff encouraged those waiting saying, "You'll be in warmth soon!"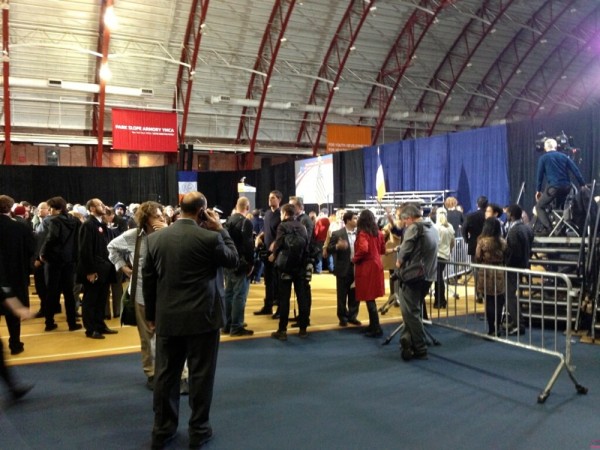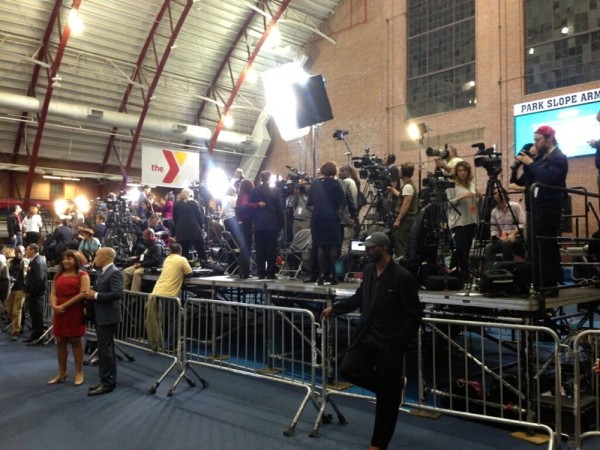 Dozens of media organizations filled the press pit, and a live stream of the night was available online.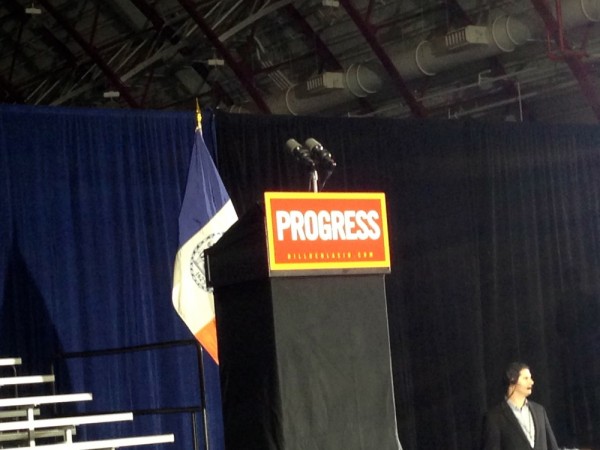 As the crowd waited for de Blasio to take the stage, Journey's "Don't Stop Believin'" played, filling that political event requirement, followed by songs from lesser-known American Idol contestants. We're guessing de Blasio's kids, Chiara and Dante, may have helped with the playlist, which while including "Living in America" and "(Your Love Keeps Lifting Me) Higher and Higher," also featured some tunes from the last decade, like Fun's "We Are Young," and Lorde's "Royals," the song he came out to.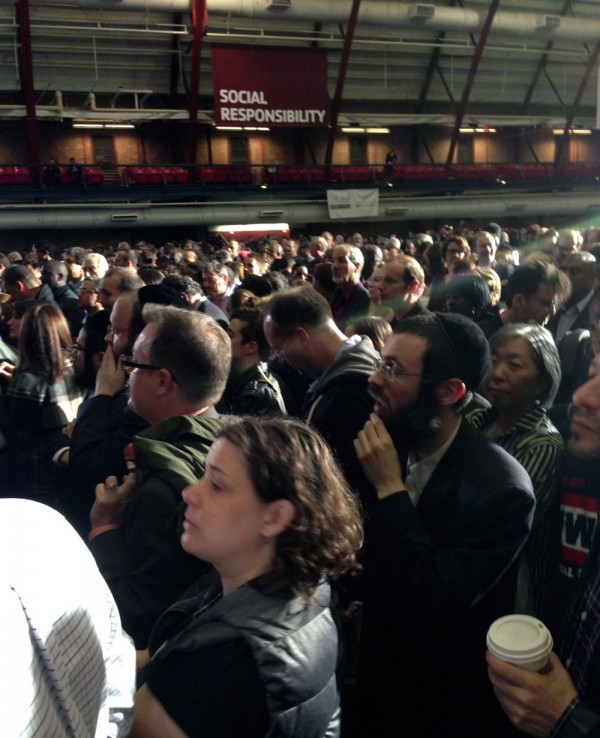 The Armory filled up pretty quickly, and we hear people were still waiting in line outside at 10pm. The crowd was a pretty diverse mix of New Yorkers — though, not too surprisingly, it skewed a bit older than de Blasio's primary victory party that took place at the Bell House.
Early on, Public Advocate-elect Letitia James' speech was shown on the projection screen, and the crowd cheered. Louder applause was heard not much later when de Blasio challenger Joe Lhota appeared on screen to deliver his concession speech. Following that, "We love de Blasio" tweets filled the screen.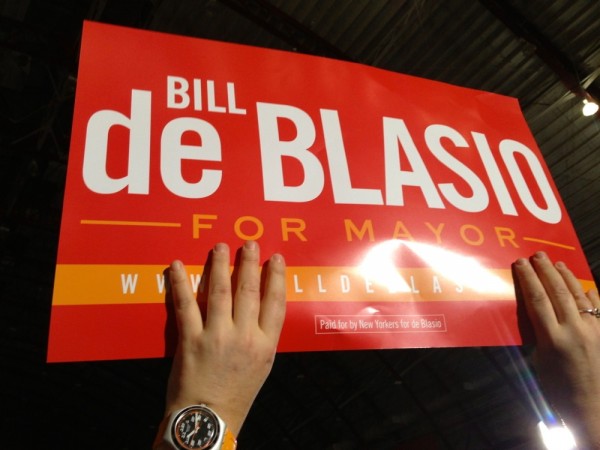 Ticket holders were warned not to bring certain things — food and signs among them. The campaign handed out these ones after 10pm, around the same time polling questions were appearing on the screen. When ones about Mayor Bloomberg appeared, the crowd booed, and some shouted: "Bye bye, Bloomberg!" and "Commissioner Kelly can go too, send him anywhere but here!"
The people sitting on the stage, the folks that "have his back," as Councilmember Brad Lander said to an NY1 reporter, were apparently just regular New Yorkers, while politicians and big backers (including Susan Sarandon and Cynthia Nixon) were out in the crowd. Someone from the campaign appeared to be giving those on stage instructions on when to stand, when to wave banners, and so on, before de Blasio's family came out just before 11pm.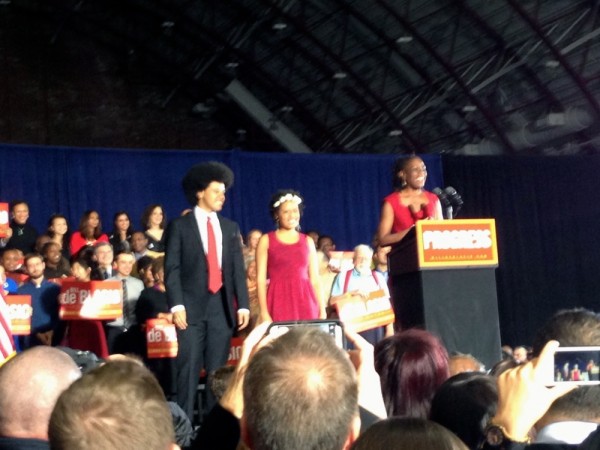 "Bill always makes me proud, but I have never been more proud of him than I am tonight," said de Blasio's wife, Chirlane McCrae. "He will lead this city with courage and empathy and vision."
She introduced her husband, who took the stage to great applause.
"Let me be clear, our work is really just beginning," the Mayor-elect said. "We have no illusions about the task that lies ahead. Tackling inequality isn't easy. The challenges we face have been decades in the making. Make no mistake, the people of this city have chosen a progressive path, and tonight we set forth on it, together as one city."
Then he repeated the same speech, translated into Spanish (hello, @DelBlasio, @eldeblasito… any others yet?).
"The people I am most grateful to, and am most grateful for, are standing right next to me," he continued, praising his wife, and then giving a shout-out to his son Dante and daughter Chiara: "They make me proud every single day, and, my fellow New Yorkers, they are very stylish!"
Again, de Blasio stressed the need for the city to come together to succeed, citing September 11 and Hurricane Sandy as incredibly difficult times that we've gotten through that way before.
"New York is no stranger to big challenges… We have always prevailed," he said. "But the challenge before us today is different than any other we've faced before. The growing inequality we see, the crisis of affordability we face…but its slow creep upon this city cannot weaken our resolve. And it won't."
Projected 2013 Election Results 
Mayor: Bill de Blasio
Public Advocate: Letitia James
Comptroller: Scott Stringer
Brooklyn Borough President: Eric Adams
Kings County District Attorney: Ken Thompson
City Council District 39: Brad Lander
Proposal 1 Authorizing Casino Gaming: Yes
Proposal 2 Added Civil Service Credit for Veterans with Disabilities: Yes
Proposal 3 Exclusion of Indebtedness Contracted for Sewage Facilities: Yes
Proposal 4 Settling Disputed Title in the Forest Preserve: Yes
Proposal 5 Land Exchange in State Forest Preserve with NYCO Minerals: Yes
Proposal 6 Increasing Age until which Certain Judges Can Serve: No
At the time of this post, it's still early, so some of these results may change. To check on the latest numbers, see this WNYC map.
News You May Have Missed: