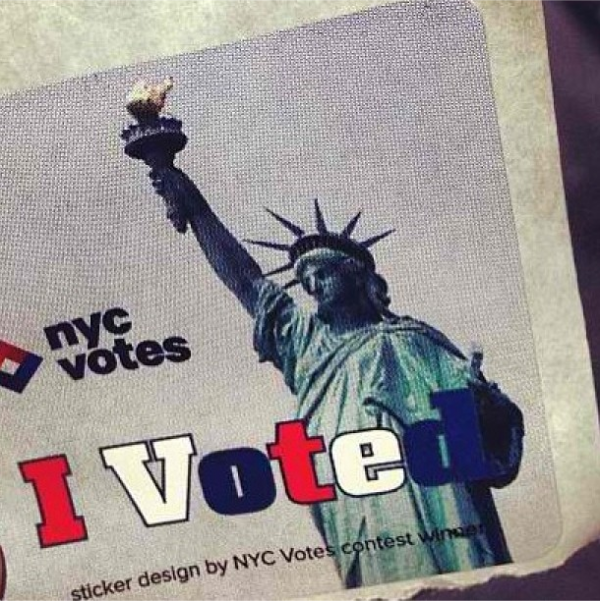 It's election day, and the polls have been open since 6am — and will remain open until 9pm, so get out there and vote!
Check out this post for all the things you need to know, then let us know how your experience was in Park Slope. Was it smooth sailing, or did you encounter problems? What was the turnout like when you were at your polling place? Did you get one of the new stickers? Here's what neighbors are saying so far today:
Low turnout at PS 282! #voted #NYC2013

— Adam Wright (@adamfwright) November 5, 2013
All voting machines failed to load at PS 321 park slope this AM - 6 machines, all votes in emergency box. @azi @deblasio @NYCVotes @BOENYC

— BK Molly (@brooklyncybele) November 5, 2013
I voted. It took about 70 minutes less this year than last.

— Benjamin Kabak (@bkabak) November 5, 2013
I was voter number 21 in my district just now.

— Brooklyn Spoke (@BrooklynSpoke) November 5, 2013
Running smoothly at #ps9brooklyn polling site! Most scanners working, more voters than expected, & bake sale selling! #nyc2013 @NYCVotes

— PS 9 Brooklyn PTO (@PS9BklynPTO) November 5, 2013
Voted! Mostly on the #workingfamilies line. Things running smoothly at 415 7th street in park slope.

— NYC Politics (@PoliticsInNYC) November 5, 2013
Bunch of press here at Park Slope Library waiting for @deBlasioNYC to cast his ballot. pic.twitter.com/illnBl2pFq

— Andrew J. Hawkins (@andyjayhawk) November 5, 2013
Fellow voter tried to show his ID to poll worker, who waved her hands and made a face like he was showing her a turd.

— Scott Klein (@kleinmatic) November 5, 2013
20 years of voting in NYC and I received my first sticker. Electronic voting AND stickers? It's a new era. #nycvotes https://t.co/dchuaS2521

— Thomas Negron (@ThomasNegron) November 5, 2013
If you experience any problems at your polling site, the attorney general urges voters to call the office's hotline at 1-800-771-7755 or email civil.rights@ag.ny.gov. You can also reach the NYC Board of Elections (@BOENYC) at 1-800-868-3692 with questions or problems about your poll site.
Photo by rebeccabknyc
News You May Have Missed: