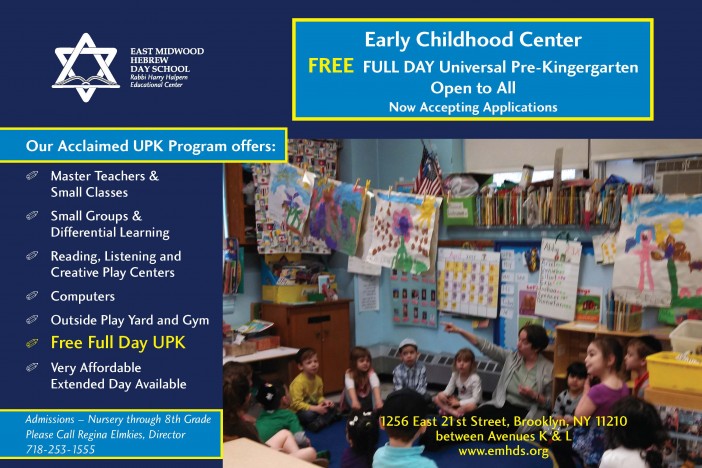 Did you know there's a free, full day, high quality Universal Pre-Kindergarten program available right nearby in Midwood? East Midwood Hebrew Day School (1256 E 21st Street between Avenues K and L) is now accepting applications for their free, full-day UPK program for students ready to enter pre-K in September 2014.
East Midwood Hebrew Day School is a 60-year-old institution in a residential area whose Early Childhood Program has been held in high esteem for over 30 years. Its UPK program is well established, having begun in 2002.
The UPK Program at East Midwood Hebrew Day School includes:
• Master teachers and small classes
• Fully equipped classrooms
• Small groups and differential learning
• Reading, listening, and creative play centers
• An outside play yard and gym
• Computers
All UPK students will be provided lunch and a snack. Affordable extended day options and private busing are also available.
Please visit the website for more information about the school or contact Admissions Director Regina Elmkies at 718 253-1555, and don't hesitate to take advantage of this wonderful opportunity!