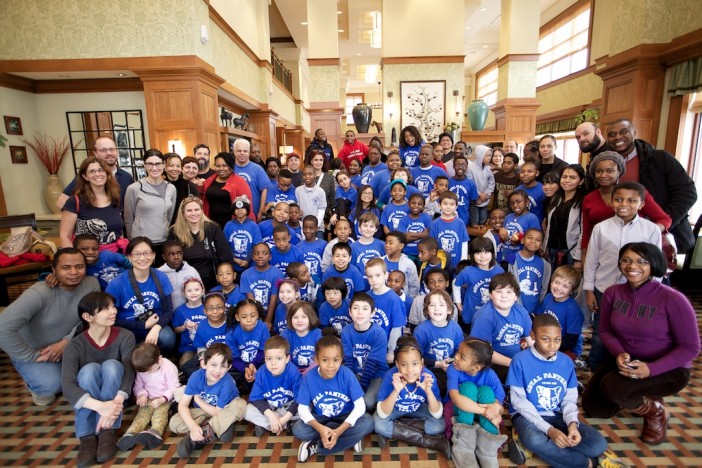 An enormous congratulations to the 56 members of the PS/MS 282 Royal Panthers chess team who competed this past weekend at the New York State Scholastic Championships in Saratoga Springs! Everyone had a wonderful weekend, and the kids did really well — they played in seven different sections, and won individual and/or team trophies in five of them.
"It was a tremendous success on all levels for our team and our community," says proud parent Jeremy Amar.
The team, which won a National Championship last year, managed to send so many kids to this competition after their Donors Choose fundraising campaign — which gained the attention and support of venture capitalist Fred Wilson — was fully funded. That money will also allow the school to send a large contingent to both upcoming Nationals events — the Junior High Championships in Atlanta next month, and the Elementary Championships in Dallas in May.
Of course, you can still support the team by purchasing some cool merch online or at the school, or by going to the PTO website and clicking on the chess team donation button. All donations are tax deductible.
Hot off their big wins, the team will be at it again this weekend, but on their home turf, and in a more casual environment.
See the complete 282 standings from the State Championships below, and then to keep up with all the news from the Royal Panthers chess team, and to see what fun events and fundraisers they've got coming up, be sure to follow them on Facebook!
High School Reserve (K-12 under 1200 or unrated)
(Note: All PS/MS 282 players in this section were either elementary or middle school students completing in the high school section.)
Team Trophy: 5th Place
Masai Sadiq Williams
Krowker Direny
Isaiah Abraham
Bryan Lawrence
Kareem Hill
Milo Bucalo-Carrer
Middle School Reserve Section (K-8 under 1000 or unrated)
(Note: All PS/MS 282 players in this section were elementary school students competing in the middle school section. One was both the youngest and the only 3rd grader to receive an individual trophy in that section!)
Individual Trophies:
Maya Doron-Repa, 8th Place
Ryan Jacob Tucker, 13th Place
Team Trophy: 2nd Place
Maya Doron-Repa
Ryan Jacob Tucker
Justin Macey
Jack Thomas Jewell
Ethan Mclaren
Robert Marshall
Gregory J.C. Senat
Aliyah Baugh
Stephan R Direny
Elementary (All in grades K-6)
Team: 12th Place
Marcus Scott
Justin Dalhouse
Takanori R Underwood
Elementary Reserve (Grades K-5 under 800 or unrated)
Individual Trophies:
Hewitt Ho, 4th Place
Team Trophy: 3rd Place
Hewitt Ho
Jayden Jeffrey Theodat
Will Steddin
Isaac Forson
Rashid Baugh
Dale Cummins
Steven Morales
Biruk Watling
Alex Kelly
Mischca Braswell
Maxwell Ming
Jisella San Juan
Daniel Forbes
Primary Reserve (Grades K-3 under 600 or unrated)
Individual Trophies:
John Steddin, 5th Place
Elijah Patterson, 9th Place
Team Trophy: 3rd Place
John Steddin
Elijah Patterson
Dakota Amar
Christiane Ruby Calixte
Jabari Decoteau
Alex Simeon Asseviro
Benjamin Gordon
Amelia Hamilton
Raven Marshall
Bryce Martey
William Johnson
Jonah Lionel Falcon
K-1 Championship (Grades K-1)
Individual Trophies:
Toshinori H Underwood, 4th Place
Team Trophy: 7th Place
Toshinori H Underwood
Serwaa Forson
Gustavo Ponzoa
Eleanor Hamilton
Jacob Ethan Calixte
Isaac G Cohen
Jazarah Amai Berry
Brandon Tucker
Ebony Spicer
Mattias Ponzoa
Arielle Gordon
Olivia Rai Robinson
Photo via PS/MS 282 Royal Panthers